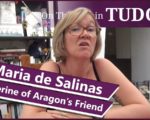 On this day in Tudor history, 5th June 1516, Spaniard Maria de Salinas married William, 10th Lord Willoughby of Eresby.
Maria and William were the parents of Catherine Willoughby, who went on to marry Charles Brandon, Duke of Suffolk. Maria was also a good friend of Catherine of Aragon and managed to be with the queen in her final hours, even though she wasn't supposed to be there.
Find out more about Maria de Salinas in today's talk.
[Read More...]