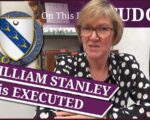 On this day in Tudor history, 16th February 1495, Sir William Stanley, administrator and landowner, was executed for treason on Tower Hill.
Stanley is, of course, remembered for his key role at the Battle of Bosworth Field in August 1485, when he and his brother chose to support Henry Tudor and brought their troops onto the battlefield at a critical stage.
So how did Sir William Stanley go from being a loyal supporter of Henry VII to being executed for treason?
Find out in this talk…
[Read More...]