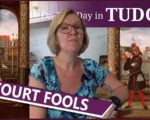 On this day in Tudor history, 15th June 1559, William Somer (Sommers), court fool to Henry VIII, Edward VI and Mary I, died in Shoreditch, London.
Somer managed to survive upsetting the king by calling Anne Boleyn and Elizabeth names, although the king apparently was so furious he wanted to kill him, and he died a natural death in Elizabeth I's reign.
Somer wasn't the only court fool at the time, Jane the Fool served Anne Boleyn, Catherine Parr and Mary I. Find out about Will Somer and Jane the Fool, the Tudor Court Fools, in today's talk.
[Read More...]