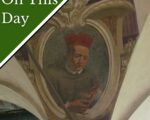 On this day in Tudor history, 14th June 1557, William Peto was made cardinal and papal legate, replacing Reginald Pole.
During Henry VIII's Great Matter, Friar Peto served Catherine of Aragon and Princess Mary as confessor. On Easter Sunday 1531, he angered King Henry VIII when he preached a sermon comparing Henry VIII to King Ahab and Anne Boleyn to Jezebel. He warned the king to act to avoid Ahab's unhappy end and to avoid the dogs licking up his blood as they had Ahab's.
In 1547, while Henry VIII's coffin was resting at Syon, it was said that liquid dripped out of it and that dogs did indeed lick it up.
[Read More...]