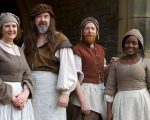 Thank you to Tudor Society members Dawn Hatswell for alerting me about this programme which airs on BBC Two at 8pm on Wednesday 19th July 2017. It's part 1 of a 3 part series looking at sweet makers in different historical periods.
Here is the BBC's blurb for the Tudor episode:
"Four modern confectioners step back in time to discover what life was like for their Tudor predecessors. They'll explore how our national sweet tooth developed, and how the tables of the aristocracy boasted fantastic displays of sugar craft which showed off their owners' wealth and status.
[Read More...]