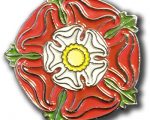 Just a reminder that our Tudor Society pin badge competition closes at the end of tomorrow, 20th October 2017. We've received lots of photos (thank you!) but if you've haven't sent in your photo then do it now!
Send us your Pin Badge photo!
If you want the chance to win a signed copy of Leanda de Lisle's fantastic book Tudor: The Family Story then all you have to do is send us a photo of yourself with your Tudor Society pin badge. Use some creativity and have some fun with what's in the photo – show us your addiction to the Tudors, show us your most prized Tudor item along with yourself and your badge, wear your Tudor costume, show us other pin badges you've collected, take it at a Tudor place… whatever you want as long as it shows your pin badge! We'll choose the best one.
[Read More...]