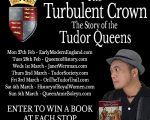 Today we have a guest post from Roland Hui as part of his book tour for his debut book "The Turbulent Crown: The Story of the Tudor Queens".
MadeGlobal Publishing is giving away a copy of Roland's book at each stop and all you need to do at this stop is to leave a comment below saying which queen or queen consort you feel had the most turbulent life. Leave your comment before midnight on 8th March 2017. One comment will be picked at random and the person contacted for their details.
Over to Roland…
When Henry VIII married Katharine Parr in 1543, the general opinion was that the King had chosen most wisely. Unlike his previous wife, Katheryn Howard, this Katharine was no young lady with a sordid past, but a mature, sensible widow. The new Queen was also known for her piety.
[Read More...]