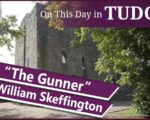 On this day in Tudor history, 31st December 1535, in the reign of Henry VIII, Sir William Skeffington, Lord Deputy of Ireland, died at Kilmainham in Dublin.
Skeffington had become known as "the Gunner" following his use of heavy artillery while taking Maynooth Castle in County Kildare, where he killed, or had executed, the whole garrison.
Find out more about the life and career of Sir William Skeffington in today's talk.
[Read More...]