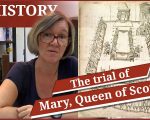 On this day in Tudor history, 14th October 1586, in the reign of Queen Elizabeth I, the trial of Mary, Queen of Scots, began at Fotheringhay Castle in Northamptonshire.
Although Mary did not recognise the authority of the commission and had threatened not to attend, she had been informed that the trial would go ahead with or without her and so attended.
Find out all about Mary's trial, what she was charged with and the evidence that Sir Francis Walsingham had gathered in today's talk.
[Read More...]