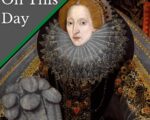 On this day in Tudor history, 16th August 1599, in the reign of Queen Elizabeth I, Sir Thomas Norris, soldier and Lord President of Munster in Ireland, died at his home, Mallow Castle, in Cork.
Norris died as a result of an injury he'd sustained in a skirmish with Irish troops on 30th May 1599. His brother, Henry, died just five days later.
Thomas and Henry's brothers, John, William and Maximilian, who were also soldiers, died in 1597, 1579 and 1593 respectively.
Queen Elizabeth I recognised the sacrifice of the Norris family and wrote a letter of condolence to her friends, Henry Norris, 1st Baron Norris, and his wife, Margery Williams.
[Read More...]