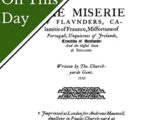 On this day in Tudor history, 1st April 1604, author and soldier Thomas Churchyard died in Westminster, London.
Churchyard started writing in the reign of Edward VI and some of his poems were published in "Tottel's Miscellany".
Churchyard was also an active soldier, serving with the Duke of Somerset in Scotland and fighting as a mercenary for Protestants in Europe.
Let me share with you a few facts about this man…
[Read More...]