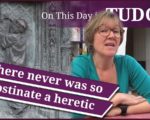 On this day in Tudor history, 10th January 1532, Protestant martyr Thomas Dusgate, also known as Thomas Benet, was burned at the stake at Livery Dole in Heavitree, near Exeter.
Benet was a zealous Reformer and got into trouble when he posted anti-Catholic bills on Exeter Cathedral's door. He refused to recant, and it was said that "there never was so obstinate a heretic".
Find out about this Protestant reformer, who sought advice from Martin Luther regarding his trouble with lust, in today's talk.
[Read More...]