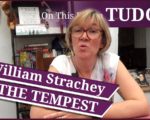 On this day in Tudor history, 4th April 1572, William Strachey (and who knows if Claire pronounces his name right!), writer and historian of Virginia, was born in Saffron Walden in Essex, England.
Strachey's account of the 1609 shipwreck of the Sea Venture in a hurricane was used as a source for William Shakespeare's "The Tempest".
Find out more about Strachey, how he was marooned for a year, and why he died in poverty, in today's talk.
[Read More...]