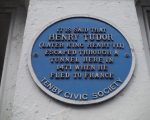 Henry Tudor's return from exile to victory at Bosworth has to be one of the greatest moments in the history of the Tudor dynasty. So why is the Bosworth story so often told from the perspective of Richard III, with Henry depicted as lucky to have won?
I was born within sight of Pembroke Castle and have always been intrigued by the small room where the thirteen-year-old Lady Margaret Beaufort gave birth to the future king, Henry Tudor. I've also stood on the remote beach at Mill Bay near Milford Haven imagining how Henry would have felt as he approached with his uncle Jasper and his mercenary army.
All I knew about Jasper's father, Henry's grandfather, Owen Tudor, was that he'd been a Welsh servant who somehow married the young widow of King Henry V, Queen Catherine of Valois. Inspired to write a historical fiction trilogy about them, I wanted to research their stories in as much detail as possible and to sort out the many myths from the facts.
[Read More...]