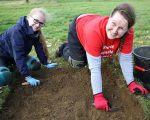 Today we have a guest post from the DigVentures team who are currently working at Sudeley Castle. Thank you to Maiya of DigVentures for contacting me and sending me this article. Over to them…
Tudor history fans are being invited to help archaeologists unearth a remarkable set of ruins recently discovered in the grounds of Sudeley Castle.
Sudeley Castle, in the Cotswold town of Winchcombe, was one of the Tudors' most beloved palaces and housed many of those closest to the crown. It's where Anne Boleyn stayed with Henry VIII while he decided to dissolve the monasteries and where Katherine Parr, his last wife, later lived after he died.
Now, a small team of archaeologists from DigVentures are on a mission to unearth traces of another remarkable moment in Tudor history: a famously epic three-day party attended by Elizabeth I to celebrate her victory over the Spanish Armada, held somewhere in the castle grounds.
[Read More...]