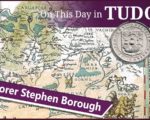 On this day in Tudor history, 25th September 1525, explorer, navigator and naval administrator Stephen Borough (Burrough) was born at Borough House, Northam Burrows, Northam, in Devon.
This Arctic explorer learnt his navigational skills from first his uncle and then Spanish pilots in Seville. He discovered Novaya Zemlya and the Viagatz Strait (Kara Strait), which was named the Burrough Strait until the late 1800s.
Hear an overview of Stephen Borough's life and career in today's talk.
[Read More...]