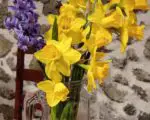 Dydd Gŵyl Dewi Hapus! Happy St David's Day!
Yes, 1st March is St David's Day, the feast of the patron saint of Wales. Thanks to a friend who's planted daffodil bulbs on his land, I have daffodils in a vase this year and I'm enjoying leek soup – yum!
The Tudors, of course, had strong links to Wales, with Henry VII's grandfather being Welshman Owen Tudor, but did the Tudor court mark the day in any way?
[Read More...]