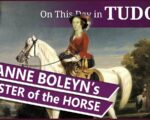 On this day in Tudor history, 8th December 1538, courtier and Master of the Horse to Queens Anne Boleyn and Jane Seymour, Sir William Coffin, died at Standon in Hertfordshire.
It is thought that he died of the plague because his wife Margaret wrote to Thomas Cromwell saying that Coffin had "died of the great sickness, full of God's marks all over his body".
Who was Sir William Coffin and what did the Master of the Horse do?
Find out in this talk…
[Read More...]