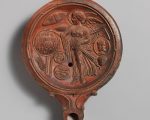 Following on from yesterday's article Io! Io! Io! Modern Christmas vs Roman Saturnalia, we have another article from Kevin Butcher, Professor of Roman History at Warwick University. If you've been watching our Tudor Society Advent Calendar videos, you'll know that I mentioned Saturnalia in the talk I did on the Lord of Misrule tradition, and this article is interesting because the Tudor monarchs and nobility followed the Roman tradition of gift-giving at New Year.
Ancient Romans celebrated the start of the New Year as part of a winter festival called Saturnalia – with sausages, sponges and silver given as gifts, alongside human sacrifice.
Kevin Butcher, Professor of Roman history at the University of Warwick says that it was a time of the year known for inclusivity and role-reversal as well as riotous partying and the exchange of weird and wonderful gifts as New Year presents.
Romans would make prayers and sacrifices to the gods, sometimes even human, in the hope of gaining the gods' favour
Before being moved to 1st January in 153 BC, the Roman New Year began on 1st March.
[Read More...]