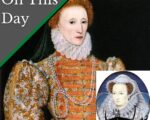 On this day in Tudor history, 10th July 1584, Francis Throckmorton was executed at Tyburn for high treason after the discovery of his plot, the Throckmorton Plot.
The Throckmorton Plot aimed to depose the Protestant Elizabeth I and to replace her with the Catholic Mary, Queen of Scots.
But why did Francis Throckmorton plot against his queen? Who did he plot with, and how was the plot discovered?
Find out more about Francis Throckmorton and his plot…
[Read More...]