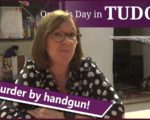 On this day in Tudor history, 13th November 1536, mercer and member of Parliament Robert Packington (Pakington, Pakyngton) was shot to death by an unknown assailant while he was on his way to mass at St Thomas of Acre Chapel. He was shot with a wheellock pistol.
Robert Packington has gone down in history as the first person in England to be killed by a handgun, but who killed him and why?
Find out about Packington, his murder, and the theories regarding who ordered his murder, in today's talk.
[Read More...]