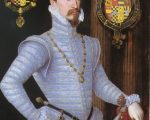 It used to be thought that Robert Dudley, fifth son of the thirteen children of John Dudley, Duke of Northumberland, and Jane Guildford, daughter of Sir Edward Guildford, was born on the same day as Queen Elizabeth I, i.e. 7th September 1533, but it is now believed that he was born on 24th June 1532 or 1533, with 1532 being the most likely.1
Robert received a humanist education and his tutors included the likes of John Dee, Thomas Wilson, Roger Ascham, and Robert's uncle, Sir Francis Jobson, and he was brought up as a Protestant. He could write and speak Italian fluently, had knowledge of French and Latin, and had a keen interest in navigation, engineering and mathematics. He married Amy Robsart, his sweetheart, on the 4th June 1550 in the presence of King Edward VI.
In July 1553, on the death of Edward VI, Lady Jane Grey, wife of Robert's brother, Guildford Dudley, became queen but her reign lasted just thirteen days because Mary I seized the throne. Guildford, Jane and Robert's father, John Dudley, were later executed. Robert was imprisoned and condemned to death but was released in autumn 1554. He served the queen fighting in the Battle of St Quentin in August 1557.
[Read More...]