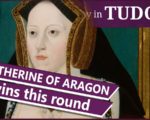 On this day in Tudor history, 7th October 1529, Pope Clement VII wrote to King Henry VIII regarding his quest for an annulment of his marriage to Catherine of Aragon.
It wasn't good news. Catherine of Aragon had won this battle, with the pope deciding that the marriage was valid, but she hadn't won the war. Henry VIII did get the marriage annulled in the end, but the pope didn't do it.
But what was going on? Why wouldn't the pope help? What was Henry VIII's argument for an annulment and on what grounds did Catherine appeal?
Find out more…
[Read More...]