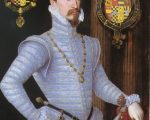 On this day in Tudor history, 4th June 1550, sweethearts Robert Dudley and Amy Robsart tied the knot at the royal palace of Sheen at Richmond in a service attended by King Edward VI.
This marriage was a love-match, but it lasted just ten years, ending with Amy's death in 1560, a death which is surrounded by controversy.
I share an excerpt from my book "On This Day in Tudor History" in today's video.
[Read More...]