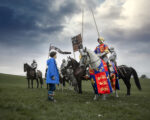 There's a new film about Richard III coming!
The Lost King will be showing in UK cinemas from 7th October 2022.
Thank you to Jo Taylor-Hitchinson for sharing this information:
"The film tells the remarkable true story of how one 'ordinary' woman overcame every obstacle to track down the final resting place of Richard III.
[Read More...]