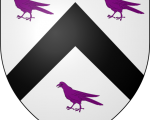 Here's this month's expert talk, a wonderful description of the times just before the battle of Bosworth, when the houses of Lancaster and York were both trying to win the support of Rhys ap Thomas and Wales.
Susan Fern, author of "The Man Who Killed Richard III: Rhys ap Thomas" takes us step by step through these turbulent times and helps us to understand who Rhys was, and why he was to change the course of history.
This is PART ONE of a two part talk recorded exclusively for the Tudor Society. Susan will be joining us live in the chatroom on 14th October, 10pm UK time.
[Read More...]