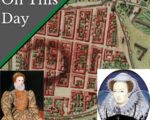 On this day in Tudor history, 16th November 1601, Charles Neville, 6th Earl of Westmorland, died in Nieuwpoort in Flanders.
The nobleman and rebel had fled into exile following the failure of the Northern Rebellion, also known as the Rising of the North or the Revolt of the Northern Earls, a plot to release Mary, Queen of Scots, from prison and to overthrow Elizabeth I.
Unfortunately, Westmorland didn't learn his lesson and was involved in a further plot. He died in debt and separated from his wife and daughters.
Find out more about Charles Neville, 6th Earl of Westmorland…
[Read More...]