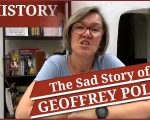 On this day in Tudor history, 29th August 1538, Geoffrey Pole, son of Sir Richard Pole and Margaret Pole, Countess of Salisbury, was arrested. He was already on thin ice, having been a staunch supporter of Queen Catherine of Aragon and Princess Mary, but he now was suspected, like other members of his family, of being in communication with his brother, Cardinal Reginald Pole, a man who had upset King Henry VIII by writing a treatise against him and his policies.
Unlike other members of his family, including Margaret Pole, Geoffrey managed to survive this trouble – how? Why? What happened?
I explain all in today's talk.
[Read More...]