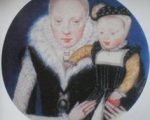 "The battle for the throne isn't over yet" is the tagline of Philippa Gregory's latest Tudor novel, "The Last Tudor". Released yesterday, this novel focuses on the Grey sisters: Jane, Katherine and Mary, who, of course, had claims to the throne through their grandmother Mary Tudor, daughter of Henry VII.
The lives of these three young women were explored in one of my all-time favourite history books, "The Sisters Who Would Be Queen" by Leanda de Lisle. It is a wonderful book. It's meticulously researched and highly readable, a winning combination, and deserves pride of place on every Tudor history lover's bookshelf. Philippa Gregory's novel is actually inspired by Leanda's research so I'm looking forward to reading this novel. To celebrate the release of Philippa's novel, Leanda has kindly shared the following excerpt from "The Sisters Who Would Be Queen" with us today:
"On 10 October 1562, when Elizabeth was at Hampton Court, she had begun to feel unwell, with aches and pains in her head and back. She had decided to have a bath and take a short walk to shake it off. When she returned to her chambers, however, she became feverish. A physician was called. To Elizabeth's irritation he diagnosed the potentially deadly Small Pox. Since there were as yet no blisters, she refused to accept the diagnosis, but sickness and diarrhoea followed and she became delirious. By 16 October the Queen could no longer speak. On the 17th she was unconscious.
[Read More...]