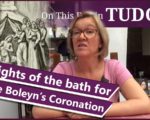 On this day in Tudor history, on the night of 30th/31st May 1533, as part of the celebrations for Queen Anne Boleyn's coronation, which was scheduled for 1st June, eighteen men were created Knights of the Bath.
What did this mean? What happened in this night-long ceremony?
Find out in today's talk.
[Read More...]