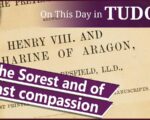 On this day in Tudor history, 18th December 1575, in the reign of Queen Elizabeth I, fifty-six-year-old historian, Catholic apologist, priest and former Archdeacon of Canterbury, Nicholas Harpsfield, died in London.
Harpsfield and his brother, John, had been imprisoned since the early 1560s for refusing to swear the Oath of Supremacy, but had been released in 1574 on the grounds of ill-health.
In Mary I's reign, he had been involved in the persecutions of Protestants, and martyrologist John Foxe described him as "the sorest and of leaste compassion" of all the archdeacons involved.
Find out more about his life, career and rise, his works, and his end, in this talk…
[Read More...]