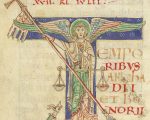 Happy Michaelmas! Yes, today is Michaelmas, or the Feast of St. Michael and All Angels.
Here's a bit more information about it from our Tudor Society Feast Days ebook.
It was, and is, celebrated on 29th September, and was the feast day of St Michael the Archangel and Protector of the Church. St Michael is referred to as "the archangel Michael" in the Book of Jude, which tells of him "disputing with the devil about the body of Moses", and then the Book of Revelation tells of a war in heaven and depicts St Michael as leading God's armies against the dragon (Satan) and his angels, and defeating him.
[Read More...]