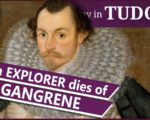 On this day in Tudor history, 22nd November 1594, naval commander, privateer and explorer, Sir Martin Frobisher, died at Plymouth. He died of gangrene after having been shot in the thigh during hand-to-hand combat during a siege.
Frobisher is best known for his three voyages in search of the Northwest Passage and his naval service during the 1588 Spanish Armada, for which he was knighted.
Find out all about the life and career of this Tudor explorer in today's talk.
[Read More...]