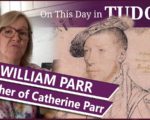 On this day in Tudor history, 14th August 1513, William Parr, Marquess of Northampton and brother of Queen Catherine Parr, was born.
William Parr is a fascinating man. He had a wonderful court career, his first wife eloped and left him, his divorce was granted and then rescinded, he was imprisoned in the Tower but then released, his marital happiness was rather shortlived… but he died a natural death!
Find out more about William Parr in today's talk.
[Read More...]