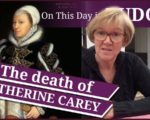 On this day in Tudor history, 15th January 1569, in the reign of Queen Elizabeth I, Catherine Knollys (née Carey), wife of Sir Francis Knollys, daughter of Mary Boleyn, and cousin of the queen, died at Hampton Court Palace. She was about 45 years old.
Sadly, Queen Elizabeth I had kept Catherine and her beloved husband, Sir Francis Knollys, apart during Catherine's final day.
Find out more about Catherine's final days, the queen's cruelty, Francis's frustration, and Catherine's lavish burial, which was paid for by the queen, in today's talk.
[Read More...]