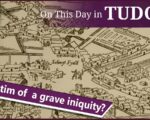 On this day in Tudor history, 20th December 1583, the day after his son-in-law, John Somerville, had been found dead in his cell, Warwickshire gentleman Edward Arden was hanged, drawn and quartered at Smithfield.
Arden, who was related to William Shakespeare's mother, Mary Arden, and married to a member of the Throckmorton family, had been found guilty of treason, after being implicated in Somerville's plot to kill the queen.
But was Arden actually guilty? Why didn't others involved end up being executed too?
Find out more about Edward Arden and what happened in 1583, in this talk…
[Read More...]