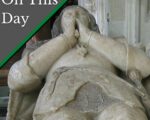 On this day in history, 27th September 1442, in the reign of King Henry VI, John de la Pole, 2nd Duke of Suffolk, was born.
Why am I talking about a duke born in the Plantagenet period?
Well, because he was the first husband of the Tudor matriarch, Lady Margaret Beaufort, and his son was involved in a rebellion against King Henry VII.
[Read More...]