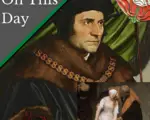 On this day in Tudor history, 13th April 1557, John Brydges, 1st Baron Chandos of Sudeley, landowner, soldier and Lieutenant of the Tower of London, died at his home, Sudeley Castle in the Cotswolds.
Brydges served Henry VIII, King Edward VI and Mary I loyally, and even managed to keep royal favour with Mary I after being accused of being too lenient with prisoners Lady Jane Grey and Princess Elizabeth (future Elizabeth I).
Let me tell you more about Brydges and his time in charge of Lady Jane Grey and Elizabeth I.