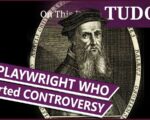 On this day in Tudor history, 21st November 1495, churchman, Protestant playwright, historian and Bishop of Ossory, John Bale was born in Suffolk.
Bale wrote twenty-four plays, and a book on famous British writers, which is his most well-known work. His work on Protestant martyrs was also used by the famous martyrologist John Foxe.
John Bale also courted controversy with his attacks on Catholics, and he spent a fair amount of time in exile.
Find out all about this accomplished Tudor man in this talk…
[Read More...]