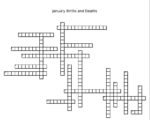 Happy New Year! Our first quiz/puzzle of 2021 tests your knowledge of births and deaths that either took place during the Tudor period or were of people associated with the Tudors.
Simply click on the link or image below to open and print out the crossword puzzle, then grab your favourite snack and beverage, make yourself comfortable and get those little grey cells working!
Hint: All the answers can be found on the Tudor Society website.
[Read More...]