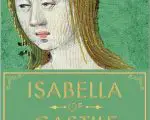 I've just received an email from Giles Tremlett about his latest book Isabella of Castile: Europe's First Great Queen, which I know many of you will be interested in. His book on Catherine of Aragon was excellent.
Here's what Giles says about his book:
"This week my latest book, a 625-page biography of Isabella of Castile, is published by Bloomsbury in the United Kingdom. It will be out in the United States on March 7 and will be available in Spanish and Chinese before year's end. Early reviews from the US specialist book trade magazines are promising: "Magisterial… sublime presentation of facts and interpretation," (Booklist); "highly readable, engrossing biography" (Library Journal) etc… Reviews will begin to appear in major UK papers next week.
[Read More...]