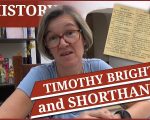 On this day in history, 6th September 1615, in the reign of King James I, Tudor physician, clergyman and inventor of modern shorthand, Timothy Bright, was buried at St Mary's Church, Shrewsbury.
Bright is known for works published in Queen Elizabeth I's reign, including his 1588 "Characterie: an Arte of Shorte, Swifte, and Secrete Writing by Character" in which he explains his invention, a system of straight lines, circles and half circles as shorthand. Bright's work has, of course, helped people the world over.
In today's talk, I share some facts about Timothy Bright, an interesting Tudor man.
[Read More...]