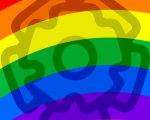 Thank you to Rioghnach for asking this question. The full question was "What was the legal and social status of male homosexual relationships in Tudor and Elizabethan England? In general; within the clergy and religious houses; and within the Royal Courts?" Historian Owen Emmerson has kindly answered it.
The legal status of gay relations over the 118 years in which the six monarchs of the Tudor dynasty ruled is a tale of two spheres which shifted enormously. For 52 of those years – during the reigns of Henry VII, Mary I and for the majority of Henry VIII's reign – homosexuality was deemed a sin and, as such, was subject to the scrutiny of the Catholic church's courts.
After 1533, most of the Tudor monarchs persecuted gay men not through the church but in the criminal law courts. The great schism that led to the Henrician Reformation was the arena in which the crime of homosexuality shifted from Church to State. The counter-reformation provided a five-year respite from state persecution, before the Elizabethan period in which the Act against homosexual relations was restored. The social status of gay relations during this period was far less a point of change than continuity by comparison.
[Read More...]