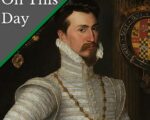 On this day in Tudor history, 28th August 1588, in the reign of Queen Elizabeth I, Robert Dudley, Earl of Leicester, wrote to his queen and childhood friend.
Leicester wrote the letter to Elizabeth I while on his way to Buxton, in Derbyshire, to take the waters for his health. He was very ill.
The letter is very special because following his death in September 1588, Elizabeth labelled it "His Last Letter" and kept it close by her until her own death in 1603.
[Read More...]