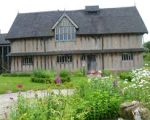 To celebrate 2017 being declared the "Year of Literary Heroes" by Visit England, the Historic Houses Association (HHA) has just launched a new online literary trail which includes over forty properties around the UK that have links to literary figures, books and plays.
In the press release, the HHA says:
"Authors as diverse as D.H. Lawrence, Charlotte Brontë, Roald Dahl and George Eliot are all connected with HHA Member houses. Our varied Member houses are all independently owned and many have been in the same families for generations.
Perhaps you'll be shown around by a descendant of one of these literary greats? Maybe the author will sign your book? Can you find the desk where your favourite novel was written?"
[Read More...]