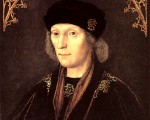 On this day in history, 9th May 1509, the remains of Henry VII, who had died at Richmond Palace on 21st April 1509, were taken to Old St Paul's.
Here's an account by James Peller Malcolm (1767-1815) in Londinium redivivum:-
"On the 9th of May, 1509, the body of Henry VII. was placed in a chariot, covered with black cloth of gold, which was drawn by five spirited horses, whose trappings were of black velvet, adorned with quishions of gold. The effigies of his Majesty lay upon the corpse, dressed in his regal habiliments. The carriage had suspended on it banners of arms, titles, and pedigrees. A number of prelates preceded the body, who were followed by the deceased king's servants; after it were nine mourners. Six hundred men bearing torches surrounded the chariot.
[Read More...]