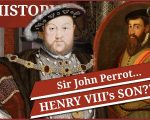 On this day in Tudor history, 3rd November 1592, in the reign of Queen Elizabeth I, privy councillor and former Lord Deputy of Ireland, Sir John Perrot, died at the Tower of London. He'd been imprisoned there since March 1591.
Perrot is a fascinating Tudor man who survived being a Protestant and protecting 'heretics' in Mary I's reign, and who was saved six times from serious punishment by Queen Elizabeth I's intercession. Some people believe that this favour, and a few other factors, point to him being King Henry VIII's illegitimate son.
Find out more about Sir John Perrot, his life and the arguments for and against him being Henry VIII's son in today's talk.
[Read More...]