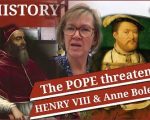 On this day in Tudor history, 15th November 1532, a rather cross Pope Clement VII threatened King Henry VIII and Anne Boleyn with excommunication.
Why? Well, because Henry VIII had defied the pope's instructions and previous threats, and gone his own way, setting aside Catherine of Aragon and living with Anne Boleyn. The pope was not impressed with this disobedient king.
In today's talk,I share excerpts of the pope's letter, along with an explanation of the context and what happened next.
[Read More...]