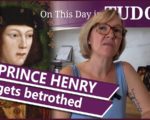 On this day in Tudor history, 25th June 1503, the nearly twelve-year-old Henry, Prince of Wales, eldest surviving son of King Henry VII, got betrothed to seventeen-year-old Catherine of Aragon at the Bishop of Salisbury's palace in Fleet Street, London.
But why did it take them until 1509 to get married? What happened?
Find out about their betrothal and their subsequent break-up in today's talk.
[Read More...]