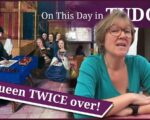 On this day in Tudor history, 9th January 1514, Anne of Brittany, Queen Consort of King Louis XII of France, died at Château Blois in France. Her corpse was buried in the Cathedral Basilica of Saint-Denis and her heart was buried at Nantes.
Anne of Brittany was the mother of Queen Claude of France, the wife of a Holy Roman Emperor AND two Kings of France, and had been betrothed to one of the Princes in the Tower. A very interesting lady!
And then there's the story of her stolen heart!
Find out more in this talk…
[Read More...]